GSD Videos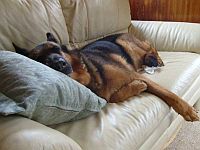 The German Shepherd Dog
The German Shepherd Dog video shows our breed at work with the Search and Rescue services, guiding the blind, herding sheep, as police dogs helping to uphold law and order and more...... Sections include the points on caring for your puppy, nutrition and the work of the German Shepherd Dog Breed Council.
To obtain a copy of the video contact the Office or send a cheque for £11.50 made payable to "GSD Breed Council"
We also have videos of The Talks given by Herr Buss and Herr Orschler.
For more information please contact The Secretary (see Contact page).